All workers in New York, including those working on construction sites, are protected under the Labour Law, which ensures safe working conditions and provides compensation to those who suffer a workplace injury.
Construction workers in trades such as carpentry, plumbing, electrical, steelwork, steamfitting, labourers, bricklaying, painting and related trades are protected by the regulations covered by the Act.
That means that if you are a construction worker and you have been injured while on the job, you may be able to receive compensation and get all the benefits that employment law provides to everyone in the industry with the help of a work injury lawyer. Want to learn more? Read on.
Workers protected under New York Labour Law.
Many of the workers in the construction sector qualify for the various legal protections under New York law. The latest government figures showed that workers and other employees in the industry face many risks and operate in a work environment that can be dangerous even if all precautions are taken and safety protocols are followed.
This section of the New York Labor Law protects workers who are exposed to a substantial risk of injury on construction sites, including commercial painters, demolition crews, window cleaners, repair crews, laborers, carpenters, plumbers, clean-up crews, iron workers, steel workers, roofers, asbestos handlers, among others.
Commercial painters and window cleaners, for example, need to climb ladders or use scaffolding frequently, which can pose an increased risk of falls from heights. In these cases, the property owner or site manager must ensure that all workers are working safely and have all the necessary tools and equipment to keep them safe, including stable ladders, scaffolding in perfect condition, and so on.
If the construction company or contractor fails to provide everything a worker needs to work safely, a work injury lawyer can help you begin the legal process to get the workers' compensation you are entitled to.
Damages for a work injury accident in New York City.
‍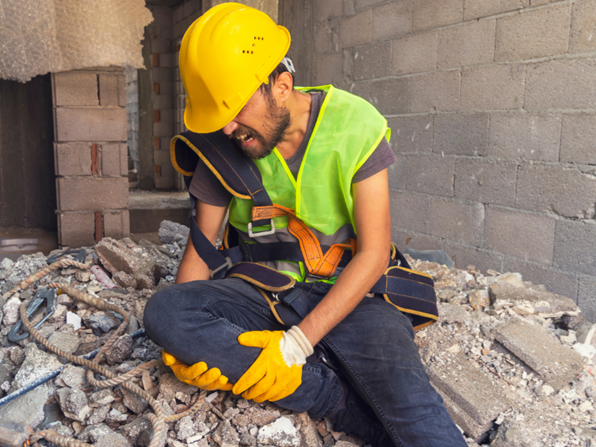 Labour law allows workers who have suffered a work-related injury to make a claim for payment of specific benefits to cover the costs of medical treatment they need or wages lost because of the accident.
In this regard, if you are injured in an accident while working on a construction site, you can start legal proceedings to obtain compensation that you can cover:
  Medical care for your injuries.
Treatment for your work-related injury.
Cash benefits for a portion of wages lost due to the work injury.
Funeral benefits for the family of the worker who lost his life in a construction site accident.
In some cases, injuries sustained in an accident at work can be severe and life-changing. Examples include spinal injuries, or traumatic blows to the head and brain.
However, workers' compensation is not enough to cover all of the expenses related to your accident and give you back the peace of mind you deserve. Fortunately, a workplace injury lawyer can work with you to file a civil lawsuit against the owner or manager of the construction site and help you obtain all the benefits you are entitled to under New York Labor Law.
If your attorney proves that your superiors failed to ensure your safety or contributed to your injuries by not providing adequate protections, you may be eligible for other benefits, including:
Related costs not covered by workers' compensation, such as medical care.
 Lost wages not covered by workers' compensation.
Decreased earning capacity.
 Damages for pain and suffering as a result of the negligent accident.
Union benefits lost.
All owners must keep workers safe and protected under New York Labor Law.
Under New York Labor Law, construction site owners, management companies and contractors must take steps to ensure that all of their employees work safely.
Some of the parameters they must follow include providing adequate training, safety equipment and other protections to their workers while they complete their assigned tasks. Otherwise, employees can pursue legal action and a civil lawsuit to hold construction site owners or managers liable for injuries sustained on the job.
So, if you believe you have been the victim of workplace negligence, and you have suffered an accident because your employer or contractor did not provide adequate safety equipment, you did not receive training, or the conditions of the work area were inadequate, the first step you should take is to call a workplace injury lawyer.
A workplace accident specialist can help you fully investigate your accident and document your injuries, identify all possible liable parties, assist you in building a strong case that allows you to fight for compensation, represent you in court to fight for your interests, and work hard to help you obtain the payment you are entitled to by law.
Talk to a New York City work injury lawyer today.
Gorayeb, The People's Attorneys has a team of professional attorneys who will review your case for free. If you have been injured on a construction site and believe that the property owner or others are responsible for your accident, you can contact our attorneys to develop a strong case for fair workers' compensation.
Remember that a work injury lawyer can be your best ally in finding a solution to the financial problems related to your accident and give you back the peace of mind you deserve after a work-related injury.
Contact us now and receive attention from our specialists. We will evaluate your case for free and guide you through the entire legal process for your physical and financial recovery.
‍
If you or someone you know has been injured on a construction site call Gorayeb & Associates at 212-267-9222 for a free consultation.